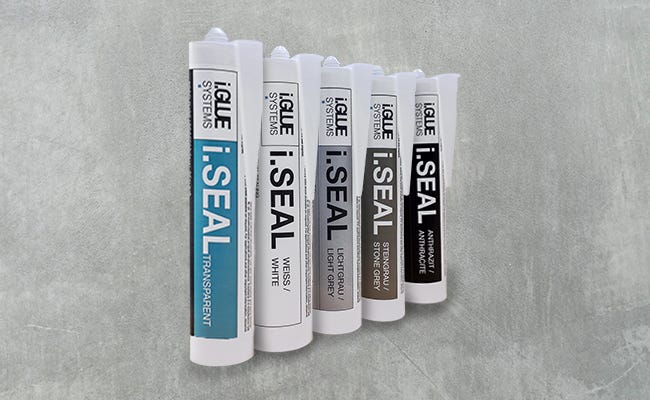 i.SEAL - The silicone-free sealant.
Mold-resistant, paintable, primerless adhesion on sanitary acrylic.
Product Features:
Crack-free due to very low shrinkage (<6%)
Permanently water-resistant
Hygienically sealed surface
Primerless adhesion on sanitary acrylic
Paintable
Solid and secure decoupling without damaging the substrate
Resistant to household cleaning agents
Suitable for indoor and outdoor applications
Available in all common colors

i.SEAL Cartridge 290 ml
Art.No. 1000-40
Possible Applications:
Sealing and caulking of:
Tiles
Washbasins
Shower enclosures
Showers and bathtubs
Toilets
Windows
The Sealant of the Future
Completely free of harmful isocyanates and dangerous chemicals, i.SEAL offers safe handling.


We not only prioritize the quality of our products but also the health of users.

A truly green sealant:
Very low TVOC (Total Volatile Organic Compounds) value
Silicone-free, solvent-free, and labeling-free
i.SEAL ensures the highest quality standards
Developed, manufactured, and tested in Germany
EMICODE EC 1 certified - meets the world's strictest emissions standards
Mold-resistant according to microorganisms DIN ISO 846
Coating-compatible according to DIN 52452
REACH-compliant